TEACH
LESSON PLAN
EDUCATOR RESOURCE: LESSON PLANS
Our Lesson Plans provide a unique experience for educators to teach about the Holocaust effectively and interactively. The modular design of the lessons found within each unit allow for adaption and customization to specific grade levels and subject areas. The integration of rich content helps students construct an authentic and comprehensive portrait of the past as they frame their own thoughts about what they are learning, resulting in a deeper level of interest and inquiry. Each lesson includes:
Step-by-step procedures
Estimated completion time
Resources labeled by icons        direct teachers to the piece of content named in the procedures
Print-ready pages as indicated by  are available as PDFs for download
If you are new to teaching about the Holocaust, we encourage you to participate in one of our
online course offerings
to support instruction ahead. As well, for teachers with limited instructional time seeking a starting point, we offer a sample
One Day Lesson Plan
, as well as a sample
Day Two Lesson Plan
for a 2nd class period of instruction.
For more information, questions or concerns please 
contact us
.
PEDAGOGY PRINCIPLES FOR EFFECTIVE HOLOCAUST INSTRUCTION
PEDAGOGICAL PRINCIPLES FOR EFFECTIVE HOLOCAUST INSTRUCTION
December 2018 marks the 25th anniversary of the release of Steven Spielberg's Schindler's List, which depicts the true story of Oskar Schindler—a man who saved the lives of more than 1,200 Jews during the Holocaust. It was Spielberg's experience making this film that inspired him to collect and preserve the testimonies of over 54,000 Holocaust survivors and witnesses, a pursuit which ultimately led to the creation of what is now USC Shoah Foundation.

In honor of Universal Pictures' rerelease of Schindler's List, Echoes & Reflections has created a short, classroom-ready Companion Resource, that will help educators to provide important historical background and context to the film, as well as explore powerful true stories of rescue, survival, and resilience with their students.

Additionally, the following videos, recorded at Yad Vashem, feature Schindler survivors who speak of the impact Oskar Schindler had on their lives.
EVA LAVI TESTIMONY
Eva Lavi was the youngest survivor from Schindler's list. She was two years old when the war began.
NAHUM & GENIA MANOR
Nahum Manor met and fell in love with his wife, Genia, in Schindler's factory. Watch him read a letter at Schindler's gravesite, expressing what he meant to them.
CLASSROOM POSTER SERIES
INSPIRING THE HUMAN STORY
Echoes & Reflections is excited to announce that our poster series:
Inspiring the Human Story
, is now available in PDF format,
free of cost
.
The posters feature the powerful words and experiences of Holocaust survivor and memoirist
Elie Wiesel
, Holocaust survivor
Kurt Messerschmidt
, and Anne Frank rescuer,
Miep Gies
. Each poster promotes meaningful conversation and reflection in the classroom, whether in person or in a virtual setting, and inspires students with powerful human stories of the Holocaust that can continue to guide agency and action as a result of studying this topic.
To support you in these efforts, we have also compiled several suggested
classroom activities
from teachers in our network that may be of use and interest.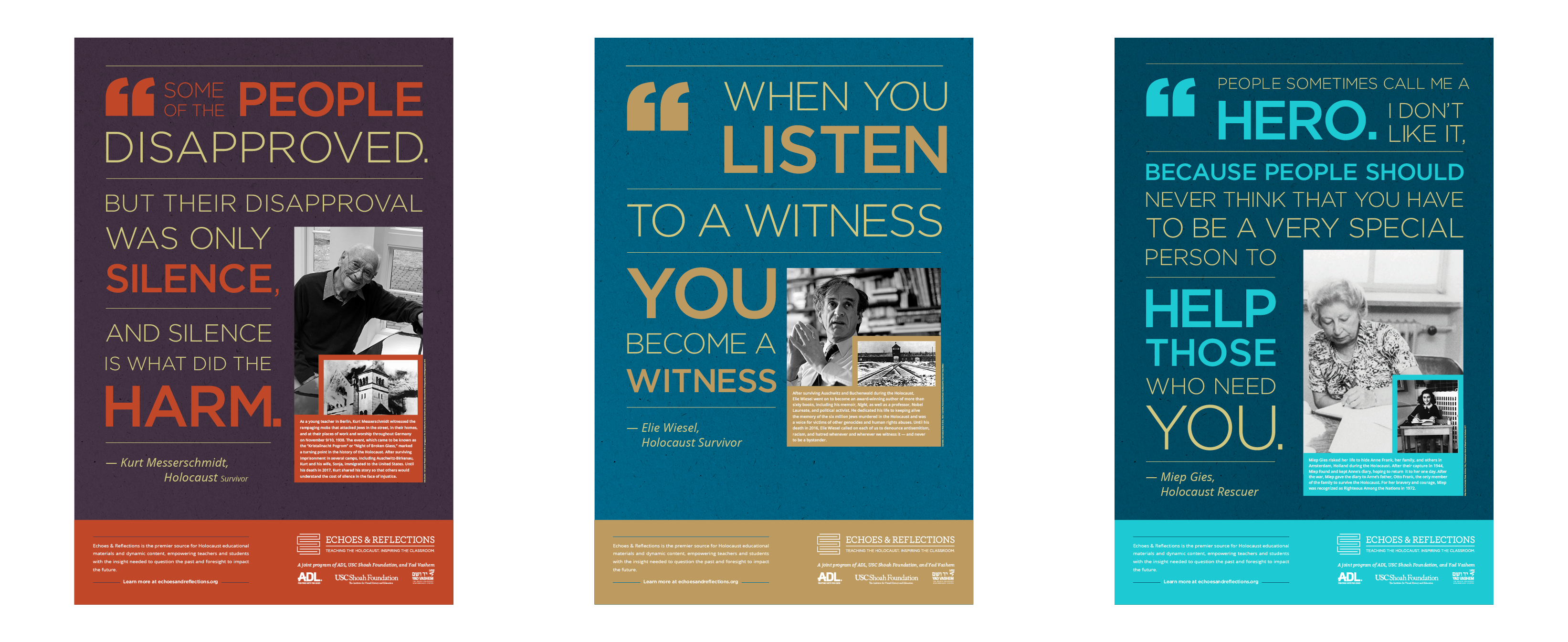 Please fill out the form below to access and download your PDF posters.
WE SHARE THE SAME SKY
USC Shoah Foundation's first podcast, We Share The Same Sky, seeks to brings the past into present through a granddaughter's decade-long journey to retrace her grandmother's story of survival. We Share The Same Sky tells the two stories of these women—the grandmother, Hana, a refugee who remained one step ahead of the Nazis at every turn, and the granddaughter, Rachael, on a search to retrace her grandmother's history.
In order to enhance its classroom use, USC Shoah Foundation and Echoes & Reflections have created a Companion Educational Resource to support teachers as they introduce the podcast to their students. This document provides essential questions for students, as well as additional resources and content to help build context and framing for students' understanding of the historical events addressed in the podcast.

Access to the podcast, as well as additional supporting materials—including IWitness student activities, academic standards alignment, and general strategies for teaching with podcasts—can all be found at the We Share The Same Sky page in IWitness.

Note: Due to the subject nature, the podcast is appropriate for older students, grades 10-12. As always, teachers should review the content fully in advance to determine its appropriateness for their student population.
TITLE
PHOTO
LEFT COL
RIGHT COL