We live in a world that moves fast. We run from one thing to the next while texting our half-formed thoughts in 140 characters or less. We are bombarded with sound bites and news headlines. At Echoes and Reflections, however, we believe that it's critical to invest in slowing down and making time to engage in deep learning and reflection with one another. We especially believe this when it comes to learning about the Holocaust.
We can all agree that professional development for teachers is critical, and that during the school year your time is limited, which is why we are proud to offer a range of programming that is short, focused, and introduces you to the content and pedagogical skills needed to effectively teach about the Holocaust.
Beyond our webinars and half- and full-day programs, we are also responsive to those of you who want to enhance your knowledge about the Holocaust, explore new instructional strategies for the classroom, and make connections to a network of like-minded educators. This is why we sponsored two advanced programs this summer: the Echoes and Reflections Advanced Seminar at Yad Vashem and the Charlotte and Jacques Wolf Educators Conference on Echoes and Reflections held at the Anti-Defamation League.
The nearly 60 educators from across the country who participated in these two programs have worked with Echoes and Reflections in the past, are currently using the materials in their classrooms, and wanted to learn more! They dedicated their time, knowledge, and experience to join these professional learning experiences. Each of the 60 has a story to tell about participating in these programs; we have chosen to share highlights from six of them:
Building Confidence with New Teaching Tools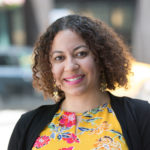 Luz Brito has been teaching English as a New Language (ENL) for fourteen years at DeWitt Clinton High School in the Bronx, NY. Brito attended the Charlotte and Jacques Wolf Educators Conference in both 2016 and 2017. Participation in the Wolf Conference has sparked her interest in teaching about the Holocaust and she finds the Echoes and Reflections resources to be practical and engaging for her student population of English Language Learners.
After the Wolf conference, Brito shared that she now understands the importance of teaching about the Holocaust as a human story, and has decided that survivor testimony and diary entries will be incorporated into all of her Holocaust lessons.
"Meeting and hearing from Holocaust survivors is a privilege that has inspired me even more to teach about the Holocaust. Each of their testimonies has renewed my commitment as an educator to teach my students to become responsible and caring citizens. Listening to survivors' personal accounts of the Holocaust is a unique experience," Brito said.
A Life Changing Experience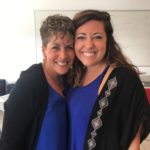 Nicole Barth is a US History/AP Government teacher at South Forsyth High School in Cummings, GA. One year after being introduced to Echoes and Reflections and using the resources in her classroom, Nicole Barth attended the 2017 Echoes and Reflections Advanced Seminar at Yad Vashem.
Barth journeyed to Israel with the hopes of being able to explore a country she had never seen before and learn from the best in the field. However, she claims that her experience far exceeded her original expectations, "What I got out of this trip was so much better. I made lasting friends and was able to network with other educators whom I can continue to work with and use as resources."
Listening to survivors speak at Yad Vashem was a life-changing experience for Barth. She felt that every story was both extremely meaningful and unique. Now that Barth has had the opportunity to attend the Advanced Seminar she is invigorated to return to her classroom and share the knowledge she gained with her students.
Holocaust Educators Have Heart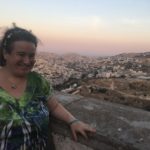 Emily Bengels is an theater and French teacher at Readington Middle School in Whitehouse Station, NJ. As someone who has dedicated her life to teaching and empowering youth and has experienced firsthand acts of contemporary antisemitism in her community, Bengels believes that now more than ever she must work towards fighting hate. She strives to do this by promoting compassion, love, and understanding among her students through the lessons and teachings of the Holocaust.
Prior to attending the Advanced Seminar, Bengels had used many of the Echoes and Reflections' lessons in the classroom. Bengels applied for the Advanced Seminar to gain more knowledge about human resilience in connection with the Holocaust. She feels that Echoes and Reflections is a model program for its emphasis on individual spiritual resistance.
"My new saying is: Holocaust educators have heart," said Bengels in reference to her lasting impressions of the Advanced Seminar.
A Meeting of the Minds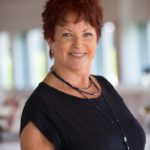 Wendy E. Lockard is the reading specialist at St. Jerome Catholic School in Ft. Lauderdale, FL. Lockard has a long history with Echoes and Reflections. She first learned about the program through the Anti-Defamation League's "Bearing Witness" program in 2011, hosted two professional development programs that year, and participated in the Charlotte and Jacques Wolf Educators Conference on Echoes and Reflections in 2014.
Returning this year for the 10th Annual Wolf Conference, Lockard hoped to gain new tools for connecting her students to visual history testimony and "to be in the midst of those who believe, like me, that Holocaust education is a valuable subject, and who love and dedicate themselves to Holocaust studies in order to foster greater tolerance and equality among their students." She was not disappointed.
Like Barth and Bengels, Lockard felt the impact of being around so many dedicated and passionate educators. She describes the conference as a "meeting of the minds," sharing that "participants strive for authentic knowledge and current methodologies to further enhance their Holocaust and social justice programs already in place. Sessions are conducted in an atmosphere of professionalism and openness which, in turn, lends itself to forge lasting friendships."
Creating Critical Thinkers and Action Takers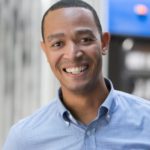 Tyrone Shaw is a World History and AP World History teacher at McKinley Technology High School in Washington, DC where he also teaches an elective course focused on Social Justice, and Holocaust and Genocide Studies. Shaw was just beginning his career in education when he first attended the Charlotte and Jacques Wolf Educators Conference in 2010 as a preservice teacher at Syracuse University. Reflecting on his experience in 2010, Tyrone shared that he learned a tremendous amount about the Holocaust and best practices for teaching about this difficult topic.
He returned this year for the 10th Annual Wolf Conference with an expectation of refreshing his pedagogy for teaching about the Holocaust and learning about new strategies from colleagues, but gained much more. The conference exceeded Shaw's expectations and gave him a renewed sense of purpose when teaching about the Holocaust. He has been inspired to begin incorporating some of the new content he learned into his Holocaust lessons this year.
What motivates Shaw to teach about the Holocaust? "I want my students to understand what injustice looks like, and the signs that indicate it is happening so they can name it when they see it happening around them," he said.
Time to Reflect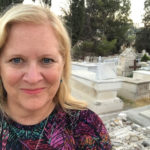 Jill Dragiff is a social studies teacher at Christ Church's Academy in Jacksonville, FL. Dragiff has spent the past five years engaging with Echoes and Reflections through its online courses and webinars. After receiving an invitation to apply to the Echoes and Reflections Advanced Seminar at Yad Vashem and gain the opportunity to meet some of the experts behind this Holocaust education program, she immediately applied.
"The description of this program sounded like something I could only dream of being able to do… I hoped to meet other educators who were as passionate as I am about Holocaust education and to learn from their perspectives and experiences," said Dragiff.
Like Shaw, Dragiff believes that by teaching the lessons of the Holocaust she can fight intolerance and foster increased levels of empathy among younger generations. Dragiff was further inspired by how the sessions consistently gave her the time to reflect on how students absorb the material, which she believes will make her teaching more effective and give her students' a deeper connection to the Holocaust. "If we concentrate on teaching our students about the life of individuals, families, communities— their hopes and dreams as well as their life experiences —we will remember them as people and not numbers," said Dragiff.
Slowing-Down, Learning More, Digging Deeper
Sixty educators decided to slow down, learn more, and dig deeper. They wanted to become more effective Holocaust educators and share their learning with students. They accomplished this and so much more. While we cannot offer Advanced Programs like these more than once a year, the response to these programs reminds us of the need to stay connected to the content and to one another however we can, and whenever an opportunity presents itself. Connect with Echoes and Reflections at an upcoming program.